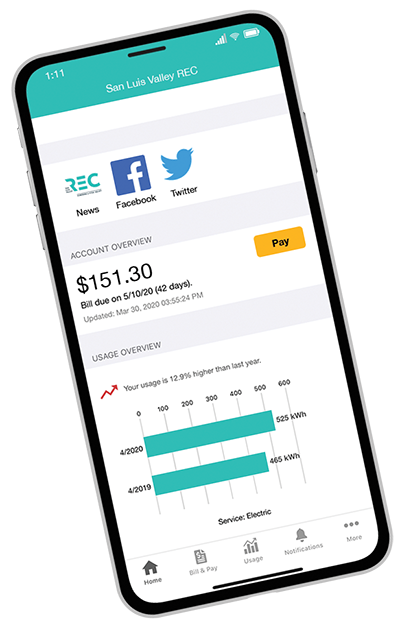 Smart communication with SmartHub
SmartHub is available through the SLVREC website and as a mobile app through the Apple App Store (iOS devices) or Google Play Marketplace (Android devices). SmartHub provides many features that can help you understand your account.

As soon as you log in, you'll be able to view your billing history and make a payment with just a couple of clicks. You'll be able to see your current bill, along with bills from the previous months. Not only will you see your billing history, but you'll be able to view your actual usage. You can see how your usage is trending over time, which will allow you to take steps to lower your bill.

Making payments through SmartHub is fast and easy. The first time you make a payment either through the web or through your mobile device, you'll be able to securely store your payment information for future transactions. The next time you need to pay your bill, it will only take a couple of clicks.

You'll also receive important news and information about SLVREC through the app. Any important news or alerts you need to know, you'll receive immediately. You can also contact us with issues regarding your service.
Take control of your account and make interacting with SLVREC easy with SmartHub.
For directions on signing up for SmartHub, go online to www.slvrec.com/smarthub.