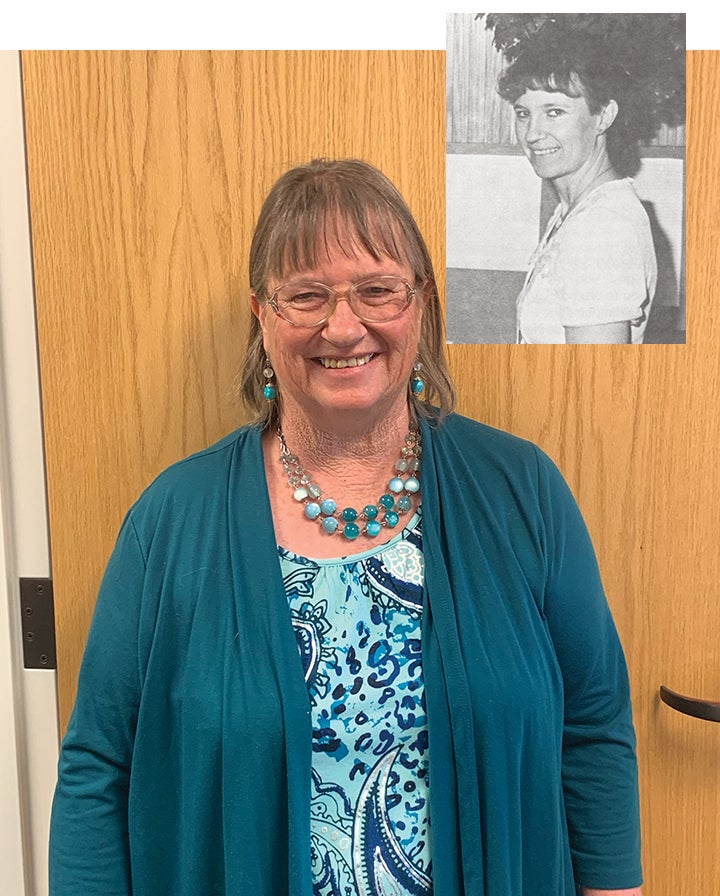 Retiring after 40 years with REC
Forty years at one job is no easy feat, it takes commitment, reliability and perseverance. Linda Wells (pictured at right), current REC plant accountant, has shown those characteristics in her 40-year tenure with SLV Rural Electric Cooperative.
Beginning on May 26, 1981 as a service order clerk, Linda has worked her way through a few different positions over the years: accounts receivable clerk, work order clerk and now plant accountant.
She has seen many changes through her career, the biggest being mainstreaming all processes from paper to computer. "Everything was done by hand; there was only one computer in the billing department that we all used," she stated.
Linda will leave the co-op with many memories— the best being helping at the annual meetings. She enjoyed seeing and talking with all the members. Growing up in the Bowen area, Linda got to see many familiar faces at the meetings. She'll also remember all the fun employee Christmas parties. The people of REC and their friendships will be missed by Linda; many friends have retired before her, but she still cherishes those friendships and always will. She gives a lot of credit to Billie Farnham, who was manager of the billing department in 1981 and helped hire her. "She took a chance on me by hiring me, and I've been here ever since. She kept me going and got me through a lot," Linda said of Billie.
Raised in Monte Vista and graduating from Monte Vista High School, Linda spent many years out on her family's farm digging potatoes, running the tractors and more. She fondly remembers Sunday dinners at Grandma Dutton's house, as well as riding horses and having fun with her cousins.
Linda is married to Don Wells, has one son, Kevin Long, as well as one grandson, Wesley. She also has two fur babies— her dogs Foxy and Kuschel. Upon retirement, Linda looks forward to spending more time with them, as well as doing things around the house. She enjoys being outside and painting, as well as canning. "Don does the gardening, and I do the canning. I do not like to do the gardening!" she laughed. She also leaves the cooking to Don; "I get spoiled with that; but we have a deal… He does the cooking, and I do the dishes," she said. In addition, she and Don have a trip planned to go see family in Oregon later this summer.
Linda will also be able to spend more time with her mom, Wilamae, who resides in Del Norte at the River Valley Inn. And no doubt Linda will spend more time watching sports— football, hockey and baseball, especially the Colorado teams. She's a big sports fan, as well as a collector. Linda currently has a salt & pepper shaker collection, many bells and numerous owls.
Linda says, "it's going to be different not coming here every day," as she has for the past 40 years, but she knows her job is in good hands. "James [Romero] makes retiring easier because he's easy to work with and knowledgeable. He's one of the goods ones, and I have no doubt that he'll be just fine," she said.
Congratulations Linda! Enjoy retirement; you've earned it!