Peppermint Bark Pretzels

Ingredients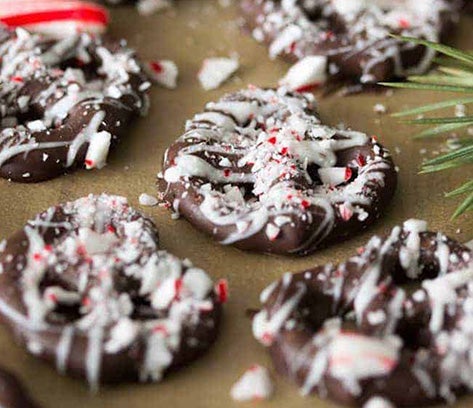 5-6 doz. small pretzels
    10 oz. bag dark chocolate melting wafers
    3/4 c. white chocolate melting wafers
    1/3 c. well-crushed candy canes (about 12 small
    candy canes, crushed)

1. Prepare a large cookie sheet by lining with wax paper. Cover your prep surface with wax paper as well to catch any spills and for easy clean-up.
2. Melt dark chocolate melting wafers in a medium-sized bowl according to package instructions.
3. Likewise, prepare white chocolate melting wafers.
4. Drop a handful of pretzels into melted dark chocolate.
5. Lift pretzels out of the chocolate one at a time, using a fork and tap against the side of the bowl to shake off excess chocolate.
6. Slide onto prepared baking baking sheet & drizzle pretzels with white chocolate.
7. Immediately sprinkle with crushed candy canes (don't wait too long, or the chocolate will harden and the candy cane pieces won't stick!).
8. Repeat until all pretzels have been dipped, drizzled and sprinkled.
9. Allow to harden before serving (about 10 minutes).
SpendWithPennies.com