Ingredients
1 lb. penne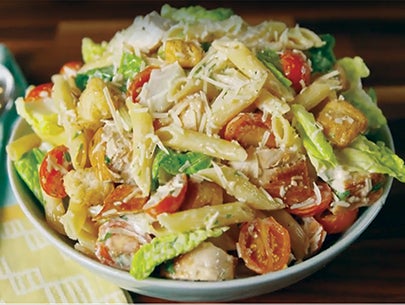 1 T. extra-virgin olive oil
2 boneless skinless chicken breasts
1 t. Italian seasoning
1 t. garlic powder
Kosher salt
2 c. chopped romaine lettuce
1 c. halved grape tomatoes
1/2 c. freshly grated parmesan
1/2 c. croutons
2/3 c. Caesar dressing
Juice of 1/2 lemon
1 T. freshly chopped parsley
Freshly ground black pepper

Directions:
1. In a large pot of salted boiling water, cook penne according to package directions until al dente. Drain and transfer to large bowl.
2. Meanwhile, in a large skillet over medium heat, heat oil. Season chicken with Italian seasoning, garlic powder, and salt. Cook until golden and cooked through, 8 minutes per side. Let rest 10 minutes, then cut into 1" pieces.
3. Add romaine, tomatoes, parmesan, croutons and chicken to pasta bowl.
4. In a medium bowl, whisk together Caesar dressing, lemon juice, and parsley and season with salt and pepper. Pour over penne mixture and toss to combine.
Recipe by Delish, www.delish.com