CARNE ASADA FRIES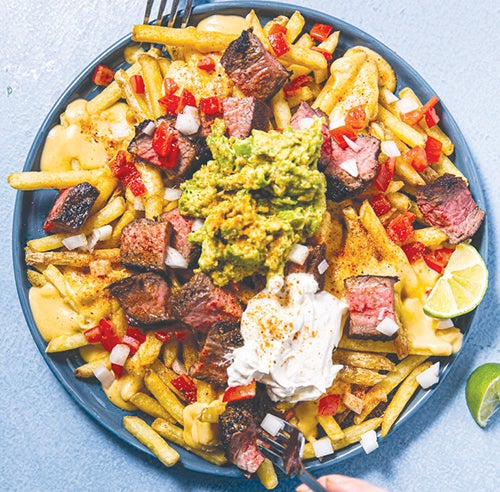 INGREDIENTS:
For the seasoning mix:
2 t. garlic powder
1 1/2 t. onion powder
1 1/2 t. paprika
1 t. freshly ground pepper
1/4 t. cayenne
For the fries and steak:
1(1-lb.) package frozen fries
12 oz. flank steak, sliced into 5" sections
1 T. vegetable oil
Kosher salt
For the cheese sauce:
3 T. butter
3 T. all-purpose flour
1 c. whole milk
2 c. shredded cheddar
Kosher salt
For serving:
2 avocados
1 1/2 T. lime juice
Kosher salt
1 medium tomato, diced
1 small yellow onion, finely diced
1/4 c. sour cream
DIRECTIONS:
1. Make the seasoning mix: Mix all ingredients in a small bowl.
2. Make fries and steak: Preheat oven to 425°. On a large baking sheet, bake French fries in a single layer according to package instructions. Season with salt to taste immediately after they're baked.
3. Meanwhile, rub steak with vegetable oil and season with 1-½ teaspoons salt and 1 tablespoon seasoning mix. Heat a medium cast iron skillet over medium-high heat. Add steak and cook, flipping once, until a deep golden crust forms on both sides of the steak, about 5 minutes total. Let meat rest 10 minutes before slicing into 1" cubes.
4. Make cheese sauce: In a medium saucepan over medium heat, melt butter. Add flour and cook until just golden, 1 to 2 minutes more. Add milk and bring to a simmer, then whisk in cheese and let thicken, 3 to 5 minutes more.
5. Assemble: In a small bow, mash avocados with lime juice and 1 teaspoon seasoning mix, and season with salt. Top fries with cheese sauce, sliced steak, mashed avocado, tomato, onion and a dollop of sour cream. Sprinkle on remaining seasoning mix and serve immediately.
Recipe by www.Delish.com