BUFFALO TURKEY BURGERS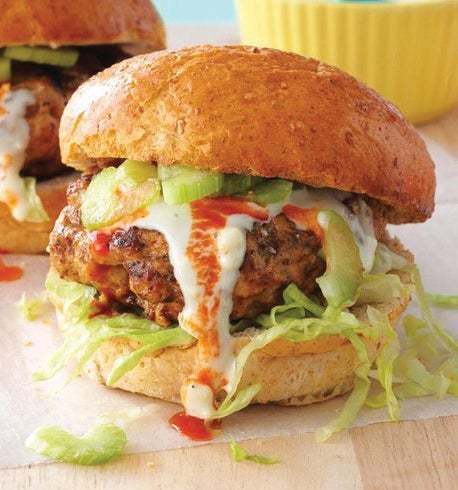 Ingredients:
    2 T. Louisiana-style hot sauce, divided
    2 t. ground cumin
    2 t. chili powder
    2 garlic cloves, minced
    1/2 t. salt
    1/8 t. pepper
    1 lb. lean ground turkey
    4 whole wheat hamburger buns, split
    1 c. shredded lettuce
    2 celery ribs, chopped
    2 T. fat-free blue cheese salad dressing
1. In a large bowl, combine 1 tablespoon hot sauce, cumin, chili powder, garlic, salt and pepper. Add turkey; mix lightly but thoroughly. Shape into four 1/2-in.-thick patties.
2. In a large nonstick skillet, cook burgers over medium heat 4-6 minutes on each side or until a thermometer reads 165°.
3. Serve burgers on buns with lettuce, celery, salad dressing and remaining hot sauce.
Recipe by Taste of Home: www.tasteofhome.com