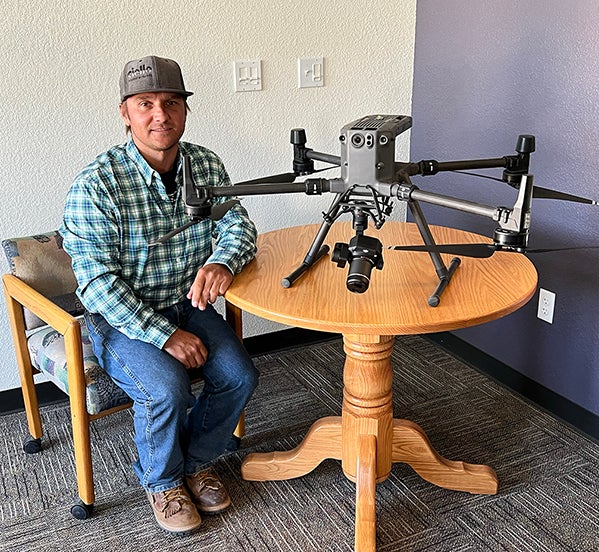 Progress with unmanned aircraft
By Kurt Taffin
Interest in Small Unmanned Aircraft Systems (sUAS), otherwise known as drone technology, is growing at SLVREC. This relatively new application for the cooperative is positioned to be woven into both construction and engineering best practices to accomplish projects more economically. Drones have the capability for either manual or autonomous flight, where they can be programmed to inspect lines, 1080p image capture and survey accuracy mapping photogrammetry.  
Within the 8,000 square mile region REC serves seven counties with approximately 2,147 miles of distribution line and 81 miles of transmission line. As drone use becomes more implemented, providing design, engineering and construction services will certainly benefit. Using accurate visualization allows mapping of large areas to acquire detailed, precise data and design with accurate geographic coordinates. Evaluating large construction projects in a reality model will generate better route designs compatible with a variety of different software. With designing in a live mapping environment, drone technology lifts the visual constraints in many mountainous and high vegetation areas within REC's system, allowing the advantage of spatial accuracy right from the field.  
In many cases, standard equipment such as bucket trucks can be used to assess damage and inspect power lines, however a bird's eye view can sometimes be safer and more efficient. Drones can quickly cover miles of damage after a storm or major outage event and can go places that would be inaccessible by vehicle. Routine pole line inspections can also be augmented using a full frame 45-megapixel lens identifying bird nests, lightning strikes, corrosion or small cracks in porcelain insulators, all of which ultimately improves reliability metrics such as the System Average Interruption Frequency Index (SAIFI) and System Average Interruption Duration Index (SAIDI).
The Federal Aviation Administration (FAA) requires all commercial pilots to operate under Title 14 Code of Federal Regulations (CFR) Part 107 and pass an aeronautical knowledge test every 24 months for re-certification. Currently REC has five sUAS remote pilots since the advent of the program in 2018. Pilots are trained in visual line of sight (VLOS) flight, the National Airspace System (NAS), meteorology and documentation to name a few.
If you see someone from our team flying around the power lines, we are always willing to take a moment and talk with members about how REC is using drone technology to develop and improve the system for the future.