Colorado native joins REC crews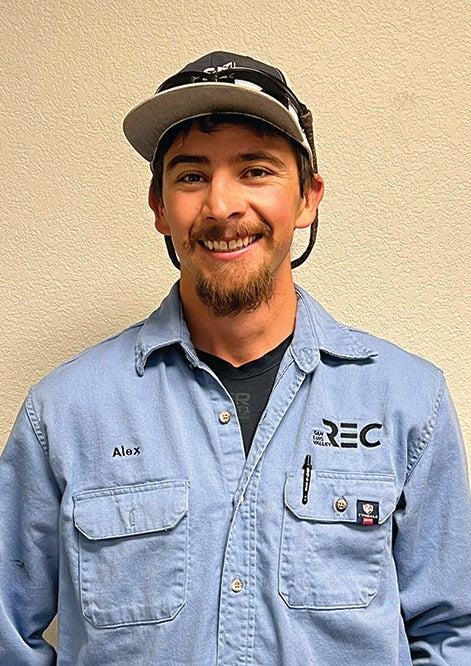 Journeyman Lineman Alex Franklin (pictured at right) has joined the REC team from a contracting company in Texas. Graduating from Northwest Lineman College in 2014, he did linework for about eight years before journeying out in February of this year.
As a native of Estes Park, Colo., Alex had looked to come back to Colorado almost since day one of working in Texas. Finding the position at REC was a perfect fit; "after interviewing here and doing the ride-along, I knew this was the place I wanted to be. I enjoy being close to the mountains and close to my family and friends," he said.
While positioned as the lead lineman in Texas, Alex was doing more construction and less technical work. "It's been nice to focus more on what I'm doing and make sure I'm doing everything right, rather than leading others," he commented.
Alex has spent the first few months getting acclimated to REC's processes and learning how he fits into the workflow here. "I'm learning different ways to do things, which I'm kind of used to, because we worked with a lot of different coops in Texas," he said.
"I love the work and people here; they're awesome. And the workload is much better; my hours are consistent for the most part. I don't have to be out of town all week. It's been great."
Alex and his wife have purchased a home in Monte Vista and are looking forward to their future here. He enjoys playing video games and has recently taken up golf.
Welcome to the REC team, Alex! We're happy to have you!