Arguello finishes apprenticeship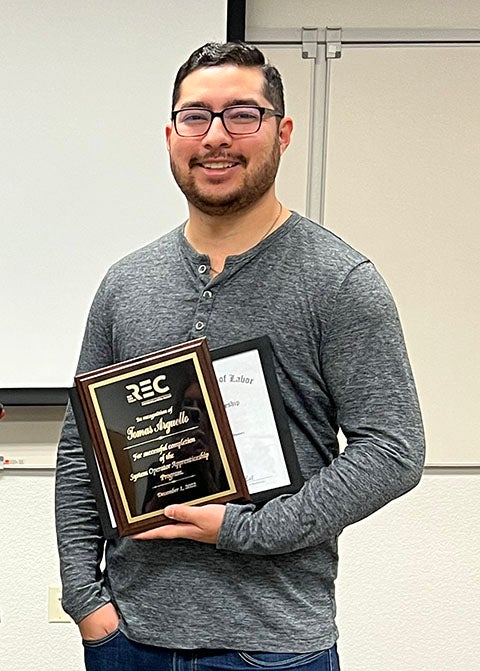 Following two years of coursework, San Luis Valley REC's Tomas Arguello has finished his apprenticeship and is now officially a system operator.
The apprenticeship included 38 books, a requirement to pass every exam with a 70% or higher, 2,500 hours of on-the-job training and the completion of four practical tests. Different topics studied included switching, radio communications, record keeping, outage & emergency actions and more. One of the practicals saw Tomas working on a server upgrade of the SCADA system with no faults or issues, which was a proud accomplishment for him.
With his apprentice-ship complete, Tomas is now working on a sectionalizing plan for the Baca area— determining where to add fuses and interrupters. He also recently was involved in upgrading REC's vehicle tracking system through Geotab.
He feels like there are a few new challenges with taking on more responsibilities in this role. "Because the nature of our system is older, there is more maintenance, which means I'll be using my knowledge in a more focused sense to restore power quickly," Tomas stated. "But it's exciting, I don't always know what I'm walking into on a daily basis."
Since joining REC in December of 2020, Tomas has married his long-time girlfriend; they have a one-year-old daughter and they've purchased a house in the Valley. "Working here is interesting, and I'm super thankful. We've put roots down here and started a life. I don't think I could have done that as easily anywhere else in the state, which is great," Tomas commented.
His hobbies include hunting, fishing, mountain biking, camping, carpentry, skiing, sports and cooking (just to name a few) and spending time with his wife and daughter.