Apprentice to journeyman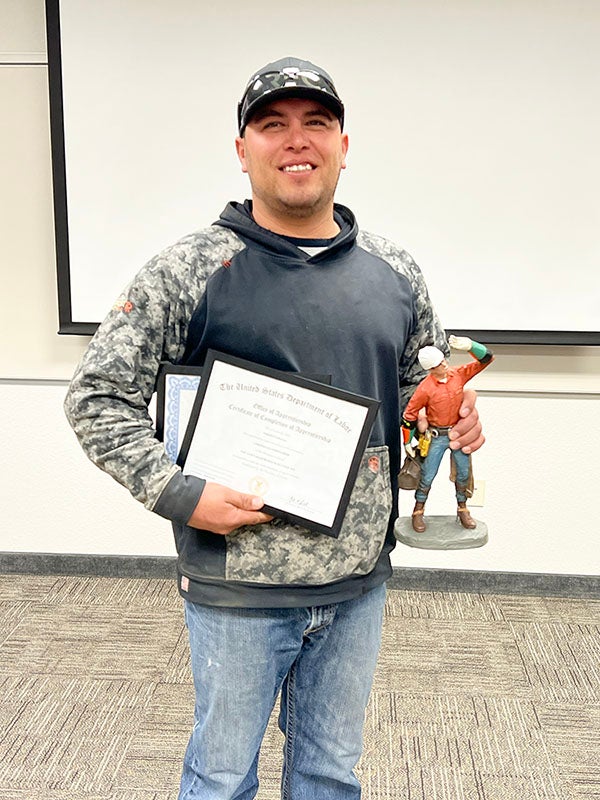 Going from apprentice to journeyman lineman is no easy feat; it takes four years— 8,000 working hours, 40+ tests and many hours of studying. SLVREC Lineman Gabe Gutierrez recently journeyed out after completing all the steps and is happy to be finished.
Graduating from Alamosa in 2007, Valley native Gabe spent 11 years doing landscaping before going to Rocky Mountain Line School in 2018. Upon graduation, he worked for Xcel Energy as a meter reader and in collections prior to coming to REC as an apprentice lineman in 2019.
As far as the day-to-day work, Gabe says there isn't a lot of change in his duties as a journeyman; "it's more of a culture thing." But he is now qualified to take outages on his own. "Working at REC is good; I like the camaraderie on the crews, and it's not boring. I am definitely not a desk-person; I enjoy being outside—not in the same place every day. When troubleshooting, you always have to be thinking and problem solving," he said.
One of the challenges of his job is that "you always have to be thinking ahead— what tools you'll need and what is the best way to complete the job safely and efficiently. You always have to be watching every-one's back," Gabe commented.
Gabe and Kristen have three children: Liam, Hailey and Jillian. He enjoys spending time with his family and in the mountains— camping and riding side-by-sides, as well as golfing.