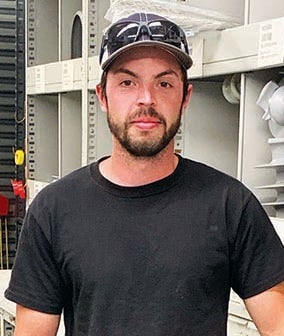 Monte Vista native Dalton Bond (pictured at right) has joined the REC team as the new warehouseman. Dalton comes to the coop with experience in purchasing, receiving and shipping, as well as inventory—all functions he's tasked with in his new position. In addition, he's keeping up with work orders for the linemen and managing stock items.
Learning a new computer inventory and PO system has been the most challenging for Dalton, but with just a few weeks under his belt, he's catching on quickly.
Dalton said, "REC has provided a step up in all things, such as pay, benefits, shorter work weeks and time off." He's looking forward to the potential to grow and move up in the future.
Dalton was born and raised in the Valley; his parents and sister still live close by. He enjoys hunting and fishing and is a "self-professed gun nut." Dalton also raises a small number of livestock.