North Area Serviceman retiring after 20 years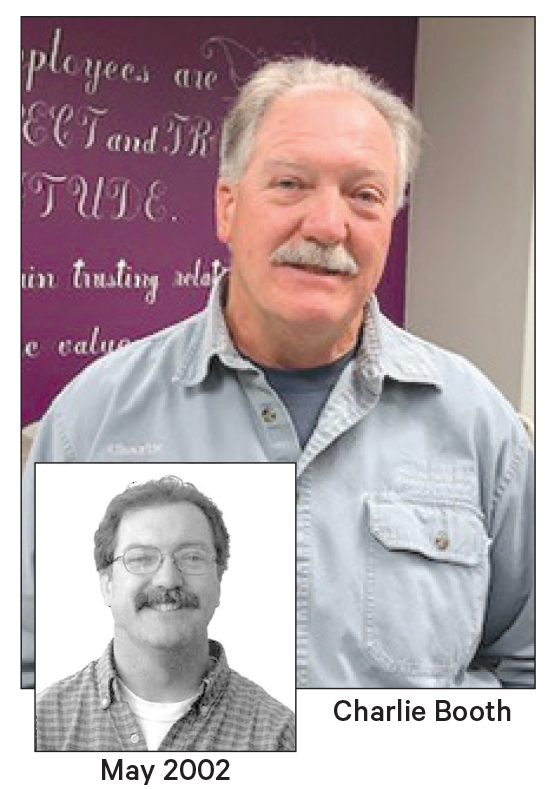 Following 20 years of service, North Area Serviceman Charlie Booth will retire from SLVREC at the end of April. He came to the co-op in April 2002 as a lineman, then stepped into the serviceman position in 2006.
Charlie started out in this industry working with a transmission contractor in 1982-83. He then moved on to United Power REA, starting as a meter reader, then an apprentice lineman. Charlie became a lineman in 1990 and worked at United for 15 years. "I had some good times there and learned a lot," stated Charlie. He also did a brief stint in Dubois, Wyo. for High Power REA and some telephone work before coming to the San Luis Valley.
"Electricity to me never really has changed. I would say the different demands and uses have. I have seen a lot of growth in the number of residential services now, due to the Cannabis growing industry," Charlie said.
Charlie's favorite memories include some really good laughs with coworkers he has had strong relationships with. "Being an outpost serviceman has given me a lot of confidence. We work 24/7, 365— give or take a few. We work alone during the day, a lot at night and in every type of weather. There is no better satisfaction than watching lights come back on and knowing that you did that and receiving calls/texts from members expressing their gratitude," he stated. "I will miss the working relationships I have with coworkers and members. I will still be in touch with many. I may even miss those late-night calls but I will deal with that," Charlie laughs.
He and his wife, Annette, don't have plans to go anywhere soon. He's looking forward to spending more time with her, but said, "she will have to get used to me being around more."
"I will also continue working on my barn and corrals. I want to get a little more involved with livestock for a while. We have horses to ride, goats to raise and will probably drag in some pigs and some calves. I have a nine-year-old Harley that has way too much dust accumulated on her, so there is that. And we are for sure going fishing," Charlie said.
"Since I have become a lineman, I have always been an extra on-call/standby guy. It's what I have done. It will take some getting used to not listening for the phone. I have a knee that needs replacing and shoulders that have been repaired— the job has taken its toll, in addition to other extracurricular stunts I have pulled. I have worn myself down. It's time for retirement!" Charlie finished.
Good luck in retirement, Charlie! SLVREC appreciates the 20 years of dedication you've given to our members.