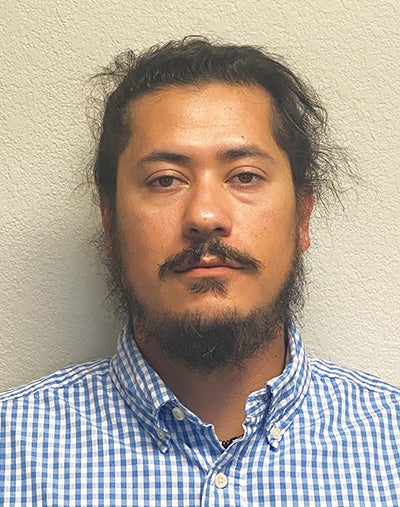 Del Norte native joins REC as engineer
San Luis Valley REC recently welcomed Del Norte native Isaiah Abeyta (pictured at right) as engineer. Isaiah will be taking on all distributed renewable energy applications, performing system load studies, assisting in engineering duties required for system buildouts and more.
Prior to coming to REC Isaiah was doing civil engineering for over four years; he helped manage/design multi-million-dollar projects. These projects had a lot of different components to them: civil, structural, electrical, etc. He had to be familiar with all aspects of the project to make sure the project ran smoothly. Isaiah stated, "although I do not have electrical engineering experience, I had exposure to what is needed from an electrical engineer. There were times when I had to coordinate with the electrical engineer, to better direct the project. I hope my background in project management and design will help REC move forward."
Growing up, Isaiah had always heard REC was a great company to work for. "They took care of their customers and their employees. And the best part was REC is close to home," he said. "I always wanted to work for REC, and the project I was working on with my previous employer was ending. The next project was going to require a lot of traveling, and I wasn't looking forward to being far from my home and family. So, when the engineering job at REC opened, it was perfect timing. I knew I had to apply for this job."
Isaiah's position is broad. He will be taking over the net metering program, while helping the engineering department with managing and directing all current and future projects. He hopes his skills and experience can help REC.
"I am enjoying the fact that there are various things to work on. One day I am reviewing construction plans, then the next day I am out in the field, and the next day discussing solar. There is always something to keep me busy and something new to learn," Isaiah stated.
"The biggest challenge has been learning a new industry. Coming from civil engineering, the electrical engineering industry has some similarities but a lot of differences. I have much to learn but I enjoy learning new things," he said.
Isaiah was born and raised in Del Norte; his whole family is located here in the Valley. Graduating from Del Norte High School in 2010, he attended Adam State University for three years before transferring to CU Boulder and graduating with a BS in Chemical Engineering.  
Isaiah enjoys hiking, camping, fishing and pretty much anything outdoors related. He also enjoys going to the gym, attending concerts and traveling to new places.
"I am excited to be a part of REC, and I will do my best to propel the company forward," he concluded. Welcome Isaiah— REC is excited to have you a part of the team!