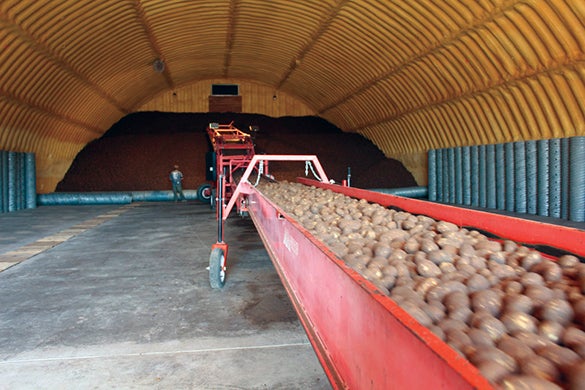 By Derrill Holly
The COVID-19 pandemic has disrupted the potato market, and farmers and processors say the economic damage could last through next year and beyond.
With more than a billion pounds of potatoes in storage just weeks away from spoiling, farmers served by electric cooperatives in several states wonder whether they will break even when they harvest their fields in August.
"With the COVID-19 outbreak, the food service sector completely shut down," said Jim Ehrlich, executive director of the Colorado Potato Administrative Committee. "States like Washington, Idaho and North Dakota lost over 60 to 70 percent of their processed markets. They were scrambling, trying to find a home for potatoes that normally wouldn't go into fresh market retail channels."
What remains of the region's 2019 crop is in cold storage, awaiting sales orders from large national grocery chains, said Ehrlich. The glut of potatoes has driven down prices and stuffed warehouses, raising the urgency to cut costs or reduce losses.
Cutting off distribution
With more than 200 varieties of potatoes commercially grown in the United States, the industry is segmented into four primary types of growers: fresh market, frozen processed, potato chips and seed.
Specific varieties are grown in 30 states, contributing to an annual yield of about 23 million tons. More than $1.8 billion of the $4 billion crop—or nearly half of U.S. production—is slated for export.
"This pandemic is truly global in nature, especially when it comes to agriculture, because there isn't any part of ag that isn't touched by it," said Pat Tolman, vice president of row crops at AgriNorthwest, which operates a Kennewick, Washington-based farm. The location has been served by Prosser-based Benton Rural Electric Association since it was carved out of Washington's high desert in the 1970s.
In March, when restaurants suspended onsite dining and schools and sports venues closed across the nation, demand for processed potatoes, including french fries, plummeted. Shutdowns prompted by early COVID-19 mitigation efforts also stalled exports.
"When you cut off those distribution channels, all of the processors across the country had freezers packed full of product with nowhere for it to go," said Tolman.
Disrupted plans
The timing of COVID-19 concerns and the pace of mitigation measures intensified just as many of the nation's potato farmers were preparing to plant their 2020 crops.
"Customers tell us what they will want for the year in the winter and we plant our acreage to meet their specific needs," said Tom Neumiller, whose family has operated Neumiller Farms in Illinois since 1974.
Having weathered the uncertainty of the early months of COVID-19, Neumiller remains concerned about a resurgence of the disease.
"Throughout our area, the restaurants, many of the tourist attractions, the movie theaters and bars, lost much of the spring, and could see even more losses this summer and fall," Neumiller said.
Farm to market
But some producers have stepped up direct sales to regional and local supermarkets, helping meet demand prompted by families eating more meals at home.
"As COVID-19 concerns hit our area, our business picked up," said Scott Wolfe, who grows about 240 acres of potatoes on his family's San Luis Valley farm.
Spikes in retail demand in late March and early April led to panic buying, Wolfe said.  "We couldn't run fast enough to keep the grocery stores supplied."
As an elected director of San Luis Valley Rural Ele-ctric Cooperative, Wolfe is concerned about the impact that COVID-19 will continue to have on his community.
While social distancing for most farm chores is relatively easy, Wolfe worries about seasonal farmworkers. He said 18 relatives of the father and son who work for him regularly will come to help with harvesting in August.
"I'm concerned about warehouses in the area too, because you basically have 50 people inside of an enclosed building," Wolfe said, adding that ventilation systems in the warehouse buildings have been adjusted upward.
New challenges
In Wisconsin, growers were looking forward to good, or at least stable, potato prices this year after wet weather and frost hurt their crops during the last two years.
"The COVID-19 crisis has added many unknowns and risk, but most growers are committed to growing a crop based on past experience," said Larry Alsum, president and CEO of Alsum Farm and Produce.
The Alsum family has been farming in Wisconsin and northern Illinois for 47 years and planted 2,750 acres of potatoes this spring. They employ 200 people.
"About half of the potatoes we pack are from our farm and half of them are coming from other farmers across Wisconsin and many other states," said Alsum.
"We are starting to see a rebound now that the restaurant industry is starting to open up, but we are not certain what the new normal will look like," he said. "People's eating habits and lifestyles could be different, and we will need to adjust accordingly… The COVID-19 pandemic has exposed how fast life can change and that we can't always control everything."