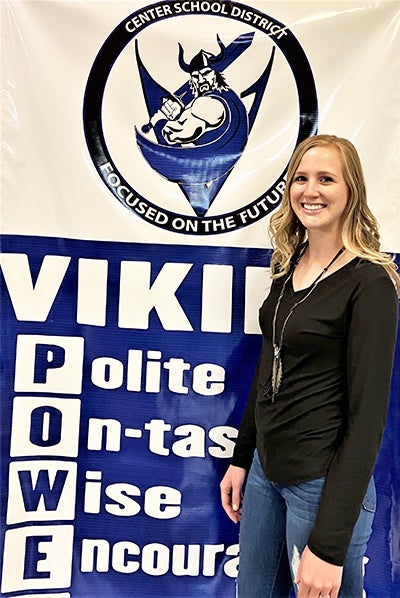 Del Norte High School graduate Bailey Jones (pictured at right) never wavered in her dream of going to school to be a teacher. The 2017 SLVREC four-year scholarship recipient will finish up her degree program at Adams State in December and graduate a semester earlier than anticipated.
Coming from a family of educators, Bailey's degree path was chosen immediately making it easier to jump right in and take the necessary courses to graduate early. Taking college classes during high school was a big help as well.
Bailey studied Teacher Education with an emphasis in literacy, where she loved all of her classes. Observing teachers from throughout the Valley was a huge advantage; she was able to shadow educators in Antonito, Alamosa, Monte Vista, Center and Del Norte. Bailey is grateful to the multiple professors that taught her the value of education. One that made a huge impact on her was Kelly Ozawa, "her love for kids and education was contagious, and she had every trick in the book for how to be an amazing teacher."
The Teacher Education Department at Adams State has a partnership with Center Consolidated School District; Bailey was fortunate enough to shadow a teacher in Center last spring. There she fell in love with the kids, the administration and the teaching staff. She said, "It was clear that Center had all their priorities in line, and I appreciated that."
Following a short sem-ester, due to COVID-19, Bailey had a sense of unfinished business in Center. The district had a full-time teaching job open for the fall of 2020. Working with Adams State, the state of Colorado and Center Consolidated School District, she was granted a temporary teaching license to carry out the duties of a full-time teacher during her student teaching semester.
Bailey commented, "It is our ninth week of classes in Center where we have a hybrid schedule (half online, half in-person learning), and I am putting to use the skills and teaching philosophy that I learned in my 3½ years at Adams State University."
Her future plans include staying with the Center School District and growing professionally and personally with the amazing people and kids there.
Preparing to finish up her college education, Bailey said, "I have said this many times over the past couple years, had I not received the REC four-year scholarship, I do not think I would have been able to pursue my dreams of becoming a teacher. REC made it possible for me to attend college with my tuition paid. The struggle of paying for college is something every high school graduate faces, and I am extremely grateful I did not have to worry about it. This motivated me to cut straight to business and graduate early."
"There are many generous community-centered organizations in the Valley like REC who have amazing scholarship opportunities. My advice to anyone looking at attending college is to apply for every single one you can get your hands on. All the hard work and late hours are well worth it."
Congratulations, Bailey! REC is proud to have been part of your college success story.