SLV REC lobby to open July 13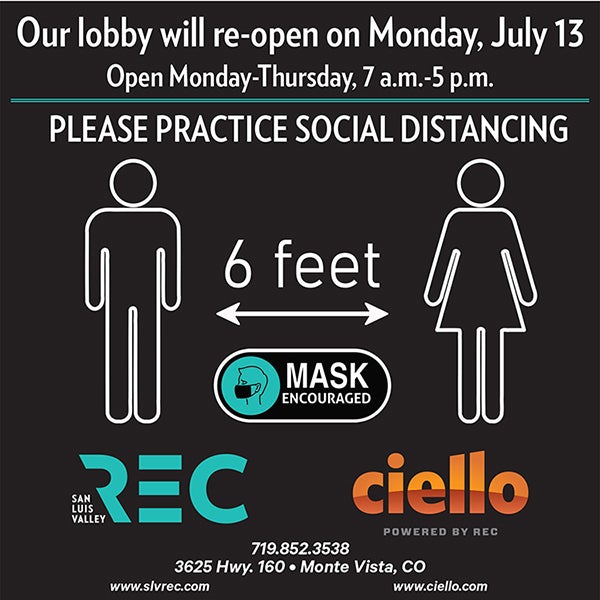 SAN LUIS VALLEY—San Luis Valley REC has been closely monitoring recent events associated with COVID-19 (Corona Virus) in Colorado and nation-wide. With safety precautions in place, the REC lobby will re-open to the public on Monday, July 13. Please practice social distancing while visiting, and masks are recommended.
As always, members also can pay their bills online through SmartHub (www.slvrec.com or www.ciello.com), by phone (877-760-7468), at the drop box outside of REC headquarters (3625 US Hwy 160 W in Monte Vista), by mail (PO Box 3625, Monte Vista, CO 81144), as well as at the following local bank branches: First Southwest Banks, Community Banks and Del Norte Bank.
Customer service can also be reached at 719-852-3538 or 800-332-7634 during normal business hours (Monday-Thursday, 7 a.m. to 5 p.m.) or by email at power@slvrec.com.
SLV REC offering assistance to impacted members
SAN LUIS VALLEY— San Luis Valley Rural Electric Cooperative's Board of Directors is actively engaged in ensuring that the vital utility services of electricity, Internet and phone continue to all members and customers in these challenging times. Bill assistance has always been provided to help REC members and Ciello customers in need, and now businesses, members and customers impacted by government mandated closures are receiving additional assistance ensuring these vital services continue through this crisis.
As many citizens are being forced to work remotely, Ciello is strengthening its network and working with residents, students, hospitals, schools and other vital businesses to maintain and increase availability.
REC and Ciello will continue to provide regular status updates to keep members and customers informed of our critical services. With questions or concerns, please call 719-852-3538.
MORE RESOURCES:
Four ways to liven up your weekend while social distancing
Colorado revised guidelines, forthcoming, April 27
Stress and infectious disease outbreaks: how to manage
6 ways to make your home office energy efficient
11 ways to avoid feeling cooped-up
Tips offered to save energy while in quarantine
Attorney General warns about coronavirus relief check scammers
Tips for entertaining kiddos during social distancing
Extreme physical distant handout
COVID-19 symptoms/social distancing
See more resources on Ciello.com